Miami Real Estate - South Florida Homes For Sale
Welcome to your Miami real estate search engine. Whether you are looking for Miami foreclosures or short sales, investment property or even a luxury property to call your home, rest assured that we will have all the available South Florida MLS inventory sorted by property type and sale type. Our search engine offers the ability to refine your searches to browse for properties that are waterfront and the sale type.
New Key Biscayne Condominium - Oceana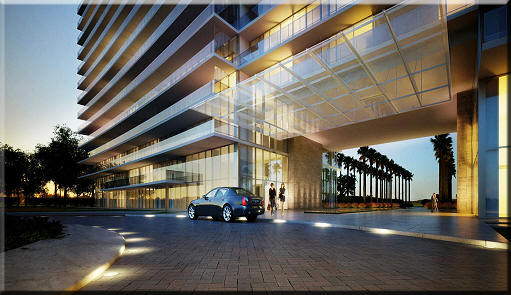 The construction of Key Biscayne's hottest new luxury condominium, Oceana, is currently underway. Built on the site of the former Sonesta Hotel and resting on the east coast of Key Biscayne, Oceana will offer the upmost in exclusivity, modern design and seaside sophistication. The $250 million project will give the Key Biscayne real estate market a much needed boost as development on the island has lagged for some time and the area's last completed building, The Ocean Club, was finished in 1999. The highly anticipated groundbreaking ceremony was appropriately held this past Valentine's Day. Visitors and residents will surely feel struck by Cupid's arrow when they see the final results of the project, which is estimated to be completed between 2014 and 2015.
Eduardo Costantini is the lead developer on the Oceana project. He is also a world-renowned philanthropist and the head of Consultatio, a venture capital firm headquartered in beautiful Buenos Aires, Argentina, a city which has been crowned with the title, "the Paris of South America". Both Poggio and Costantini hail from Argentina, a scenic and economically formidable nation known for its rich, European inspired art, music and culture. Their story of success is a common thread throughout Miami. Over the years, large numbers of affluent South American families and entrepreneurs have laid their ground in the city, further contributing to its impressive economy and inclusive multi-culturalism. The heritage they share is a fitting compliment to the beauty and grace of which the brand new Oceana condominium will gleam.
Oceana will sit upon 10.3 acres of pristine oceanfront real estate on Key Biscayne beach. This area is known for its majestic Atlantic Ocean and city views and lush, tropical surroundings. Approximately 142 units ranging from 1,800-7,500 sq. ft will be made available for sale upon the completion of this ambitious and noteworthy project. Many Miami residents have grown used to parking-related headaches, but these inconveniences will be made obsolete at Oceana, which will feature spacious and well-lit parking located right on the property. Some of the exclusive amenities proposed are: a state-of-the-art fitness center featuring the newest and best exercise equipment on the market, and a serene waterfront pool and sundeck both of which combine into the perfect private setting for enjoying the most of the city's fabulous weather and ocean breeze. Exclusive beach cabanas will provide a quick retreat from all the fun in the sun. Oceana will also feature around-the-clock security in order to allow residents and their guests to keep a resort-style state of mind during their stay.
Aside from opulent interiors and fabulous features, Oceana is offering prospective residents location, location, location! Frequent travelers won't need to trek too far, since Miami International Airport is just a few miles from Key Biscayne. For those who prefer a "staycation" Oceana's site is mere minutes from the Manhattan-esque island of Brickell Key and a short drive away from Miami Beach and all of the thrilling dining, nightlife and shopping options it has to offer. The adjacent neighborhoods of Brickell, Downtown Miami and Miami Beach unite to form an outstanding and world-renowned cultural trinity, which includes landmarks like Miami Art Museum, Adrienne Arscht Performing Arts Center, The Fillmore, Miami City Ballet and the popular Wynwood Arts District.
Units are currently available for reserve and prices have not been officially set but will likely be in the $1,000 per sq. ft range. If private, resort-style living on an urban, island paradise is your realty raison-d'etre, reserve your spot today at amazing Oceana and be a part of the Key Biscayne's finest accomplishment. Click here to see the official Oceana brochure and make sure to Contact Miriam today to learn more about Oceana's progress and how you may go about reserving your own unit.
CONDOMINO DE LUJO EN KEY BISCAYNE MIAMI FL - OCEANA
La construcción de Oceana, el nuevo condominio de lujo en el área de Key Biscayne, está en progreso. Construido en el área del antiguo Hotel Sonesta en la costa este de Key Biscayne, Oceana ofrecerá la más alta exclusividad con un diseño moderno y sofisticado a la orilla del mar. El proyecto de $250 millones de dólares dará un gran empuje al mercado de bienes raíces de Key Biscayne, el cual ha tenido poco dinamismo en los últimos años, ya que el último edificio construido, The Ocean Club fue terminado en 1999. La tan esperada ceremonia de inauguración se llevó a cabo el pasado día de San Valentín dejando tanto a residentes como visitantes flechados por Cupido al ver los resultados finales del proyecto, el cual se estima quedar terminado entre el 2014 y 2015.
El líder del desarrollo del proyecto Oceana es Eduardo Constantini, filántropo de fama mundial y director de Consultatio, una sociedad de capital de riesgo con sede en la bella Buenos Aires, Argentina, una ciudad que se ha ganado el título de "La Ciudad de París de Suramérica". Tanto Poggio como Constantini provienen de Argentina, una nación con una economía formidable, famosa por su arte, su música, su cultura y estilo europeo, siendo cuna de estos dos emprendedores muy conocidos en el área de Miami debido a su historia de éxito. Durante años, muchos empresarios y prestantes familias de Suramérica se han establecido en la ciudad aportando dinamismo a la economía y dándole un toque multicultural a la población. El patrimonio que comparten engalana la belleza del nuevo condominio Oceana.
Oceana se erigirá en un área de 4.16 hectáreas a la orilla del mar en la conocida playa de Key Biscayne. Ésta área es famosa por su espectacular vista al Atlántico, a la exuberante ciudad y a su ambiente tropical. Aproximadamente 142 unidades, que van desde los 1800 hasta 7500 pies cuadrados, estarán disponibles a la venta durante la construcción de tan ambicioso proyecto. Muchos residentes de Miami siempre han tenido dificultades con las áreas de estacionamiento, las cuales son insuficientes, pero éstas dificultades serán cosas del pasado en Oceana, gracias a sus grandes espacios de parqueo localizados en la misma propiedad. Algunas de las exclusivas comodidades con las que Oceana contara serán: un gimnasio con el equipo más moderno disponible en el mercado y una piscina frente al mar con áreas de bronceado, las cuales se combinan en un escenario perfecto para disfrutar del fabuloso clima de la ciudad y la brisa del mar. Para descansar un poco de las actividades a la luz del sol y unas exclusivas palapas ubicadas en la playa proporcionaran una placentera sombra. Oceana incluirá un servicio constante de seguridad con el fin de que los residentes y sus invitados puedan relajarse totalmente durante su estancia.
Además de sus fabulosos interiores y exclusivas comodidades, Oceana ofrece a sus residentes una excelente ubicación. Los viajeros frecuentes no necesitan trasladarse por grandes distancias, ya que el Aeropuerto Internacional de Miami se encuentra a unas cuantas millas de Key Biscayne. Oceana se encuentra a unos minutos de la Isla Brickell Key y a corta distancia de Miami Beach y de toda la emocionante vida nocturna y de compras que la zona ofrece. Los vecindarios cercanos de Brickell, el centro de Miami y Miami Beach se unen para formar la sobresaliente y renombrada zona cultural, que incluye sitios como el Museo de Arte de Miami, El Centro de Artes Escénicas Adrienne Arscht, la histórica sala de conciertos The Fillmore, el Ballet de la Ciudad de Miami y el popular Distrito de Arte Wynwood.
Las unidades están disponibles para reservarse. Si lo que busca es una propiedad al estilo de una isla paradisiaca, reserve su unidad ahora en la sorprendente Oceana y sea parte de la exclusiva comunidad de Key Biscayne. Haga clic aquí para ver el folleto oficial del proyecto y contacte a Miriam quien le hablara del progreso de Oceana y de cómo usted también puede reservar su unidad.